Invitation Birthday Twitter - Premium Vector EPS template
To use these template you need Adobe Photoshop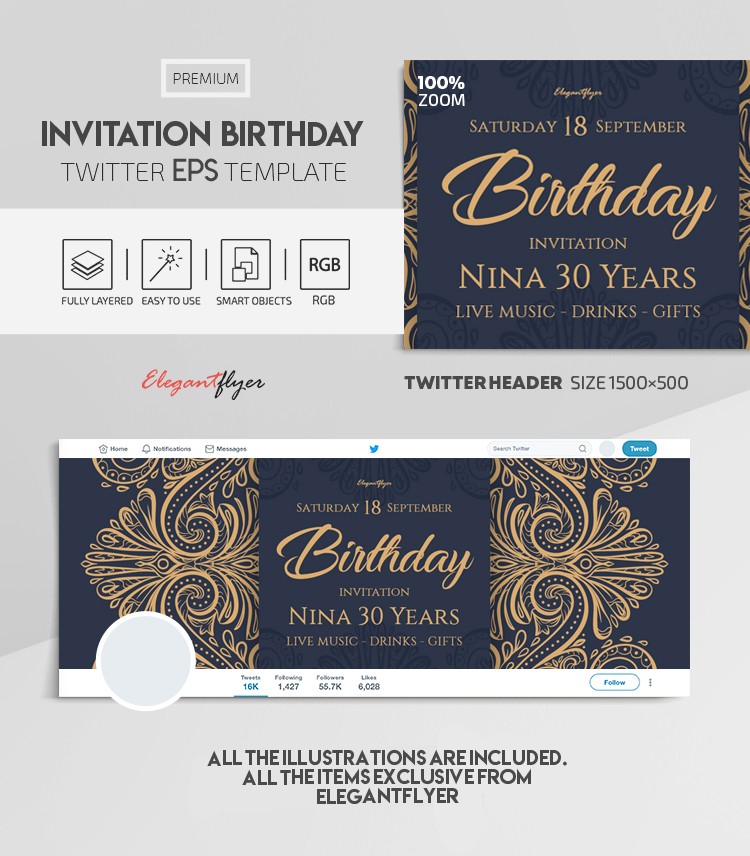 Elevate your Twitter profile's elegance for your special day with our Invitation Birthday EPS header template. Crafted in a refined and creative style, it blends graceful shades of grey and blue with delicate touches of gold, exuding an air of sophistication. The design features intricate ornamental details, adding a touch of luxury to your online presence. This template effortlessly captures the essence of celebration, inviting your audience to join in the excitement of your upcoming birthday.
Crafted in user-friendly EPS format, customization is a breeze, ensuring a seamless infusion of your personal style. Tailored exclusively for Twitter, it guarantees a perfect fit within your profile's layout. Embrace the allure of elegance and make a lasting impression with this dynamic template.
Meticulously designed to amplify your birthday anticipation on social media, it's a splendid way to engage your audience and spread the joy. Download now to transform your Twitter profile into an exquisite showcase of your upcoming birthday celebration.
Save 98% OFF
Get unlimited access to all Templates and save over $65767!
Instant access to ALL TEMPLATES (included new ones!)
250 new templates / month
Unlimited downloads for each product
Regular updates and support with dedicated help desk
Cancel easily anytime
Qualitatively designed PSD files that are very easily customized
Save 98% OFF
Get unlimited access to all Templates and save over $65767!
Instant access to ALL TEMPLATES (included new ones!)
250 new templates / month
Unlimited downloads for each product
Regular updates and support with dedicated help desk
Cancel easily anytime
Qualitatively designed PSD files that are very easily customized