Dance Studio - Free Flyer template (PSD)
To use these template you need Adobe Photoshop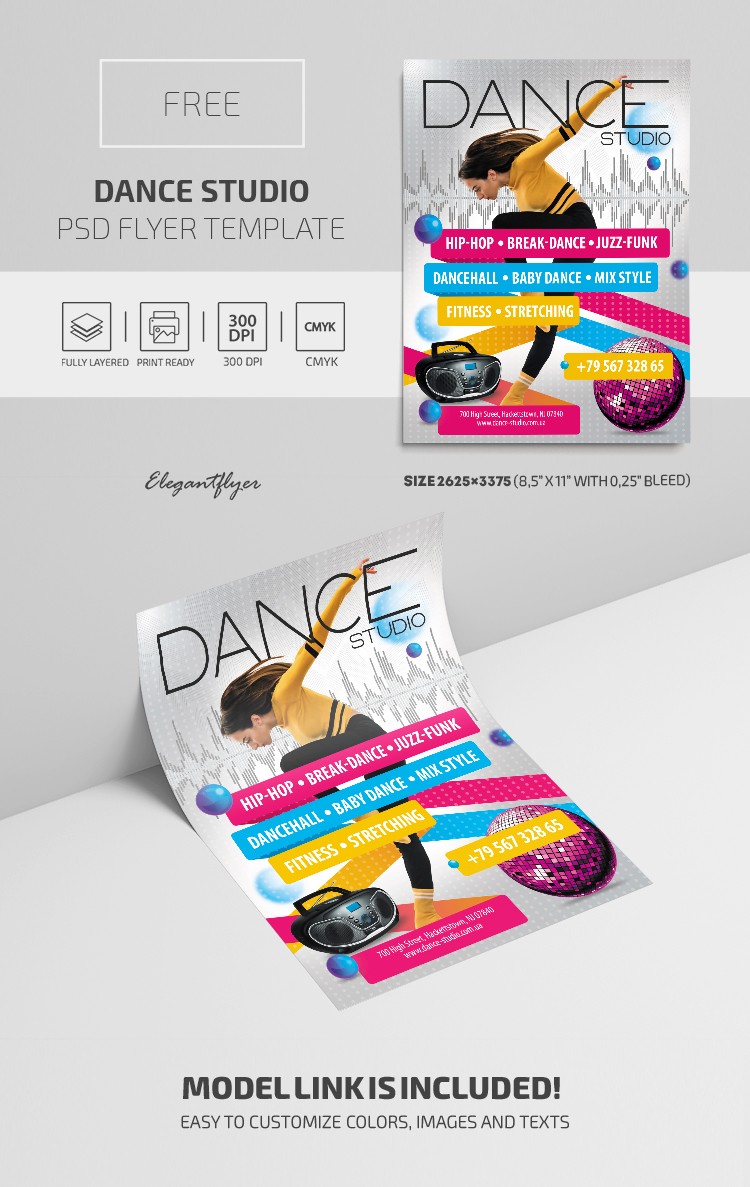 Introducing our captivating Dance Studio PSD Flyer template – a must-have for dance enthusiasts and studio owners. Designed in an elegant white palette with vibrant, colorful elements, this flyer is sure to grab attention. At its heart, it exudes energy and excitement, making it the perfect choice for promoting dance classes, events, or studio openings.
The design features a playful boombox and a sparkling pink disco ball, instantly setting the stage for dance-filled fun. This vibrant imagery communicates the essence of dance and music, promising a thrilling experience to anyone who sees it.
What makes this template even more exceptional is its editable photo holders. They provide you with the creative freedom to personalize the visuals, whether it's showcasing dance instructors, students, or a snapshot from a previous event. It's a fantastic way to connect with your audience and convey the spirit of your dance studio.
The PSD format ensures easy customization, allowing you to tailor the flyer to your specific needs. Adjust the details, text, and images effortlessly. The design is optimized for high-quality printing, so your flyers will look stunning in hand, just as they do on the screen. Elevate your dance studio's promotion and make it shine with the Dance Studio PSD Flyer template. Download it now and get ready to dance your way to success.
Vídeotutorial:
Save 98% OFF
Get unlimited access to all Templates and save over $65767!
Instant access to ALL TEMPLATES (included new ones!)
250 new templates / month
Unlimited downloads for each product
Regular updates and support with dedicated help desk
Cancel easily anytime
Qualitatively designed PSD files that are very easily customized
Save 98% OFF
Get unlimited access to all Templates and save over $65767!
Instant access to ALL TEMPLATES (included new ones!)
250 new templates / month
Unlimited downloads for each product
Regular updates and support with dedicated help desk
Cancel easily anytime
Qualitatively designed PSD files that are very easily customized