10+ Free Photography Brochure Templates in PSD + Premium Version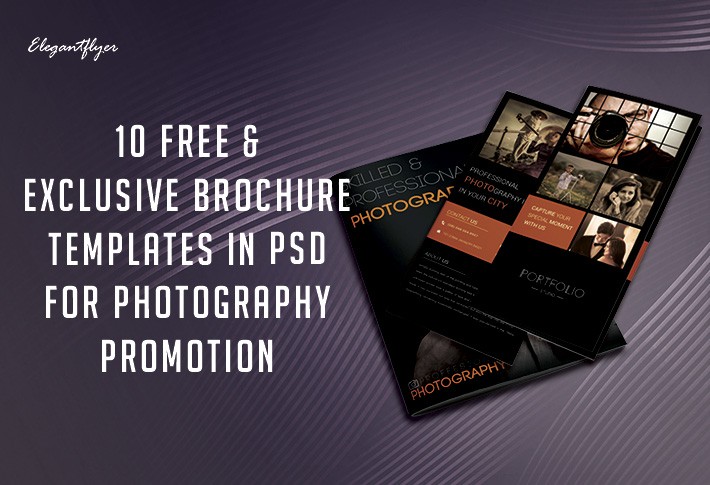 Today, there are so many photographers in the world and it's become harder and harder to stand out from the competition. In the context of fierce competition, one should build a convincing sales pitch with the help of thought out marketing strategy. Online advertising via Google ads, Instagram ads and Facebook retargeting should be a part of advertising campaigns. Another effective type of advertising, especially in terms of local advertising, is handing out promotional brochures. Brochures perfectly fit the promotional needs of photography services, as they combine both advertising and portfolio features.  On the one hand, you can showcase your work with the help of beautiful photos you made, and on the other hand, you put important information:
What type of photos you make (wedding, portrait, or product shot);
Your contact details;
Customers' testimonials and feedback;
Prices;
Persuasive call-to-action.
If you are a photographer and want to get more clients for wedding photo shoots, portrait, newborn, fashion or aerial photography, you are welcome to download 10 of our predesigned photography brochure PSD templates. You can easily personalize them in Photoshop, by adding some of your best shots, why you should be hired and personal details. Don't hesitate and put your photography services marketing on a new level!
Checklist of crucial points we aim to highlight here:
Photography – Tri-Fold Brochure PSD Template
Photography – Tri-Fold Brochure PSD Template
Download
Video Production – Premium PSD Tri-Fold Brochure Template
Video Production – Premium PSD Tri-Fold Brochure Template
Download
Wedding Photo – PSD Premium Bi-Fold Template
Wedding Photo – PSD Premium Bi-Fold Template
Download
Wedding Photo – PSD Premium Square Tri-Fold Template
Wedding Photo – PSD Premium Square Tri-Fold Template
Download
Wedding Photographer – Tri-Fold Brochure PSD Template
Wedding Photographer – Tri-Fold Brochure PSD Template
Download
Photographer – Free Tri-Fold PSD Brochure Template
Photographer – Free Tri-Fold PSD Brochure Template
Download
Modern Photography – Free PSD Tri-Fold PSD Brochure Template
Modern Photography – Free PSD Tri-Fold PSD Brochure Template
Download
Photographer Free PSD Tri-Fold PSD Brochure Template
Photographer Free PSD Tri-Fold PSD Brochure Template
Download
Event Photography Free PSD Tri-Fold Brochure Template
Event Photography Free PSD Tri-Fold Brochure Template
Download
Creative Photography Tri-Fold Brochure Template
Creative Photography Tri-Fold Brochure Template
Download
Wedding Photography Premium Bi-Fold PSD Brochure Template
Wedding Photography Premium Bi-Fold PSD Brochure Template
Download
Freelance Photographer Premium Tri-Fold PSD Brochure Template
Freelance Photographer Premium Tri-Fold PSD Brochure Template
Download
Wedding Photographer – Premium Tri-Fold PSD Brochure Template
Wedding Photographer – Premium Tri-Fold PSD Brochure Template
Download
Exclusive Black & White Photography Tri-Fold Brochure Template
Exclusive Black & White Photography Tri-Fold Brochure Template
Download
Photography – Premium Tri-Fold PSD Brochure Template
Photography – Premium Tri-Fold PSD Brochure Template
Download