20+ Free Baby Shower Invitation Templates in PSD for Girls and Boys & Premium Version!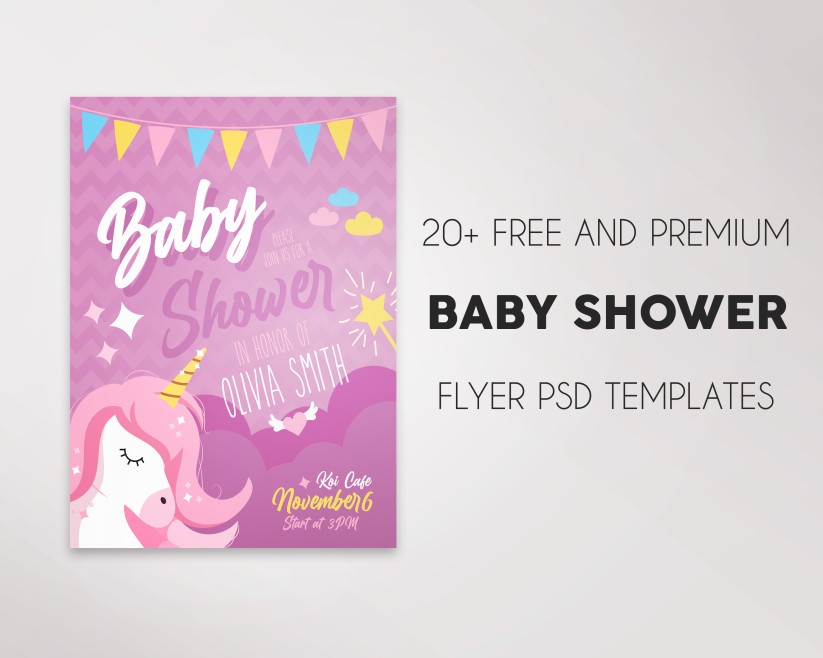 Baby shower is the most special event in a life of every woman and man. It is a way to celebrate a new life, a new member of a family. It goes without any saying that nearly every future or newly-affluent mother wants to make this baby shower event special.
Checklist of crucial points we aim to highlight here:
When it comes to making a baby shower party event special, every detail is important, as it creates a special atmosphere. Decorations and interior are important for creating a festive mood. But the way you invite guests to this special event is no less important. In this case, stylish and elegant baby shower invitation flyers are a great way to invite guests and create that special atmosphere in advance.
We have rounded up 20+ Free Baby Shower Invitation Templates in PSD for Girls and Boys & Premium Version which can be easily downloaded, customized in Photoshop and printed. Among free baby shower flyer PSD templates, you can find an invitation design that will fit baby showers for boys and girls as well as universal design templates in case the gender of a baby is a surprise.
All free baby shower invitation PSD templates are print-ready. As all the PSD files consist of well-organized layers and smart objects which you can edit in few clicks. For example, you can change color palette, text and images.
On our website, you can find a great variety of Free Event Flyer Templates PSD for the promotion or for inviting guests to any event, party or business event. If you need some Free Summer Flyer Templates PSD for Photoshop to promote a hot summer party or a beach party, feel free to download any of the templates right away. To make all the customization hassle free, use Photoshop: [photoshop].
Baby Shower – Free Flyer PSD Template
Download
Baby Shower – Free Flyer PSD Template
Download
Free Baby Shower Invitation PSD Template
Download
Baby Show – Free PSD Flyer Template
Download
Baby Shower – Free PSD Flyer Template
Download
Baby Shower – Free Flyer PSD Template
Download
Free Baby Shower Invitation PSD Template
Download
Baby Shower – Premium PSD Flyer Template
Download
Baby Shower – Premium PSD Flyer Template
Download
Premium Baby Shower Invitation PSD Template
Download
Baby Shower – Premium PSD Flyer Template
Download
Baby Shower Party – Flyer PSD Template
Download
Baby Shower – Flyer PSD Template
Download
Horse Themed Baby Shower Template
Download
Baby Shower – Flyer PSD Template
Download
Unicorn Baby Shower Design
Download
Little Man Baby Shower Theme
Download
Baby Shower Invitations for Girls PSD Flyer
Download
Stork Baby Shower Theme
Download
Baby Shower - Premium Flyer PSD Template
Download
Giraffe Baby Shower Invitation
Download