How to Create a Business Card Design That Gets Noticed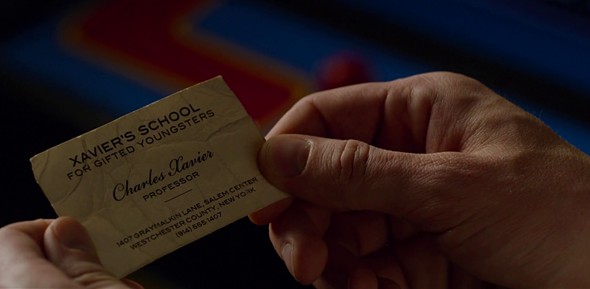 Nowadays, almost everyone who runs a business, represents a company or a brand has a business card. A business card should sell after all, drive people's attention and make someone call you or buy from you. It's getting harder to make people keep business cards as the most of them are ordinary. A good business card is one that is hard to be thrown in the garbage. To make people keep your business card and call you back, your business card design should get stuck in potential clients' heads.
What Makes a Business Card Noticeable and Unique?
Design and layout;
Shape;
Text and fonts;
Material;
Functionality
These are the key elements you should pay special attention to when creating a business card template. If you make one or few of these elements outstanding, chances are you'll get more calls and orders.
The business cards below demonstrate the perfect combination of original design, clear message of what is the business displayed on a card, functionality.
A dentist's business card. Minimalistic design and a clear message that serves like a call-to-action will definitely make potential clients go to this dentist cabinet in order to treat their teeth or at least to make sure that they have no caries.

Source: Bored Panda
Lawn care business card. No comments. The design and functionality of this business card bring a lot of clients to this guys for sure. It does not just get message across, it brings profit to clients. The business card should not just sell, but show the benefits of using this or that business and be useful.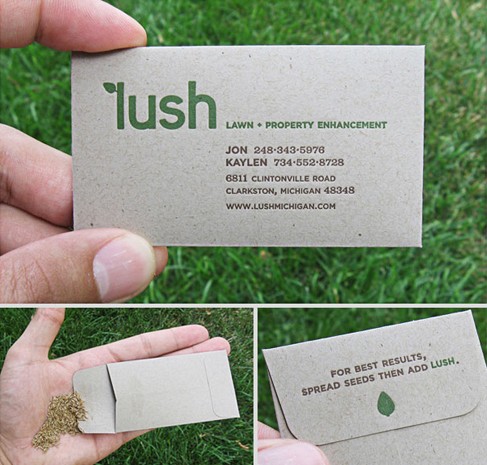 Have a look at other business card design examples to get some inspiration and maybe ideas in order to create a business card that will get noticed.
What Design to Choose for a Business Card in Order to Make It Stand Out from the Crowd?
Design, layout and colors should be associated and consistent with your business website (if you have one), your logo and brand identity color scheme.
The layout and landscape are no less important. Make sure that the layout and text are suitable for a common business card size, which is 3.5 x 2 inches.
Lately, more and more business cards are made in the format of the portrait landscape. The vertical format is easy to scan and read, fits perfect card holders and works well for printers.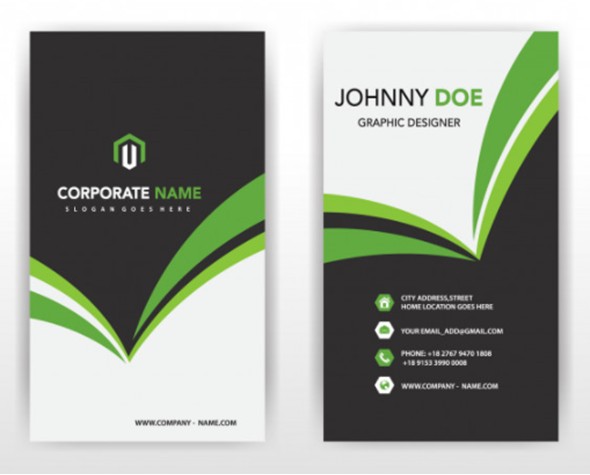 What Fonts Are Good for a Business Card Design?
When it comes to fonts, it all depends on the type of the business you run. If your company provides some business services, like real estate, law, banking etc., then both design and fonts should be minimalistic and elegant. In case you run some creative and artistic business, choose more creative bold and colorful fonts and design. Here are some free professional and elegant fonts and more creative fonts for your business card design.
A quick tip: Make sure your fonts are easy-to-read and legible. The minimal size of a readable font is no less than 8 points.
What Information Should Be Shown on a Business Card?
The information that should be put on your business card should clearly state who you are, what you offer and how to get in touch with you. So, the business card should include:
Your name and position
Your business details (name of the company and what offers, logo, address)
Contact Details
Clear Message (optional)
Try to create such a design that will help the text to be catchy and noticeable. Here fonts and layout will play an important role. Be sure to put the key information like your name, company details and your contacts on the front side of a business card. On the back side put some clear message with a call-to-action text.
What Material to Choose for Business Card in Order to Make It Noticed?
If you want to create a noticeable and durable business card, you should pay special attention to material, texture, and finishes. Don't use paper with a card stock thickness less than 12-14 points (0,012-0, 014 inches).
There is a huge choice of material and finishes that will help you create an original business card and add extra wow effect. These are splendorgel matt 350 gsm, conquer 350 gsm, recycled 350 gsm, immortal plastic, spot-UV etc. Read this business cards materials guide with detailed explanation on materials and finishes.
A quick tip: Request samples prior to printing in order to see how design and text will look like on this material and finish.
Are There Any Free Business Card Templates Available?
If you are short of time, don't have money to create a business card and want to have a ready-to-print business card template right now, feel free to use one of our professional and modern free PSD business card templates.
If you haven't found the template that fits your business needs feel free to subscribe to our membership and get unlimited access to thousands of business card templates, flyers, brochures, logos and other print materials.