How to Find the Right Font + 20 Free Fonts for Flyers & Brochures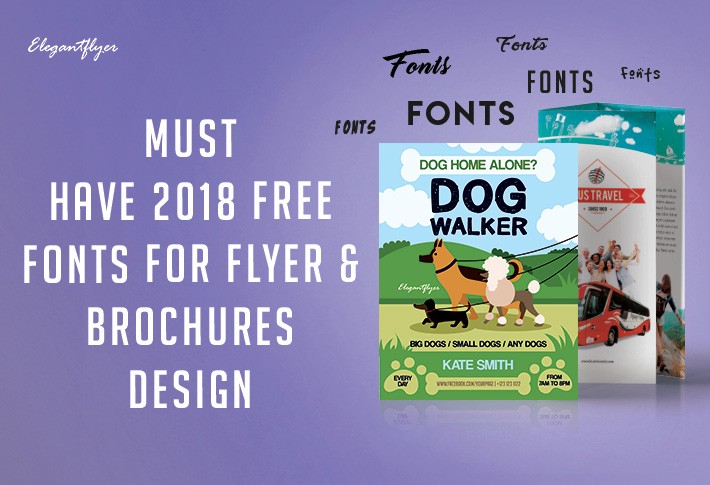 Selecting a typeface for a brochure or a flyer is one of the most important factors in the process of design. There is a sheer number of free fonts on the internet, from neutral conventional, to futuristic and to fancy handwritten. Such a plethora of typefaces makes it hard to make the right choice and pick the font which would perfectly match the flyer or brochure design.
Checklist of crucial points we aim to highlight here:
The font choice directly depends on design, objective and the key message of a printed material. To make this vague statement more clear, let's have a closer look at the factors which help to choose the right fonts for your flyers and brochures templates which make them stand out and easy-to-read at the same time.
How to Find the Right Font for Flyer and Brochure Templates?
Recently, I have come across a fascinating infographic that helps you choose a typeface based on a design project you need a typeface for.
Though this inforgraphic provides font solutions to a wide range of design projects, it doesn't explain the basics of choosing this or that font for a flyer or brochure.
Use fancy and bold fonts for headlines and plainer typefaces for body copy.
Headlines in flyers should stand out from the body text, so people could catch the general idea of the whole text that comes below headlines. Eye-catching fonts are justified here. Use bold and prominent fonts in order to put emphasis on important information that should attract people's attention in the first place. While fonts for body text should be plain, simple and easy-to-read. Keep with medium weight (thick) fonts to make it easy-to-read, as lightweight fonts are too transparent.
Don't use too many fonts per one flyer or brochure.
Less is better. Stick to 2-3 fonts. If you want to play with more than 3 fonts than it's better to consider fonts from one typeface family. Each font has its own "personality", some fonts are "extroverted" and some are "introverted". They should not conflict but complement each other. If you are not sure if the chosen fonts are compatible and work well together, use the fontpair service. Learn how to combine fonts in your design projects.
Fonts for flyers and brochures must be legible
Prior to working with fonts for your flyer or brochure templates design, make sure that the chosen fonts render well both on your computer and in print.
Match font type to the tone (fun and exciting, emotional etc.) and design (elegant, minimalist, retro, modern etc.) of a brochure or flyer.
If it's an official business flyer than you should use some strict free fonts. Fancy fonts are appropriate for flyers which promote parties and other non-formal events.
Top 20 Free Fonts for Flyer & Brochure Templates Which You Should Use (+ Premium Versions)
We have selected best 20 free and premium typefaces which you can download right away and use for personal and commercial purposes in your flyer and brochure templates.
Garute - Free Variable Sans Serif Font
Download
Stopwatch Free Typeface
Download
Tokyo Midnight
Comica Boom Font
Download
Drumnik Font
Download
Ananda Black Font
Download
Volja Font
Download
Playen Sans - Free Condensed Font Family
Download
Mattilda Script Font
Download
Soda Berry
Download
Witch Mystery Font
Download
Dx Bloop Colorful Free Font
Download
NAMU Old Style
Download
PLAYFAIR DISPLAY
Download
Jiro Free Typeface
Download
Relocation Font
Download
Project Space Font
Download
Glowbloom Font
Download
Orion Font
Download
Jaisy Font
Download