How to Recover Accidentally Deleted PSD Files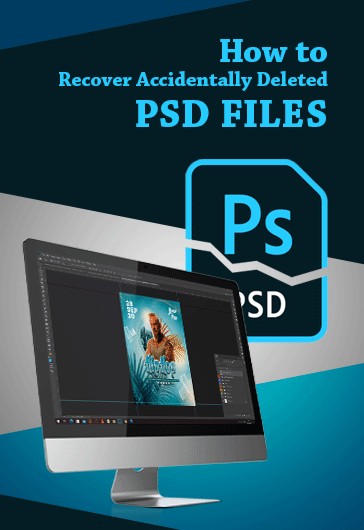 For many of us, our computer contains files and data that are just as important as money on our bank account. Project reports, contact information, account privacy, work files, business plans, presentations, and much more is available on our PC, keeping our professional life balanced. No one wants these files to be deleted or lost. If you unintentionally delete files or folders, the Recycle Bin can be used as a rescue. Source: visionpic.net With the Recycle Bin in Windows, even if someone intentionally deleted a file or folder, you can still recover it. However, we don't take the Recycle Bin for granted due to the following reasons: The Recycle Bin does not guarantee full recovery of your missing files - there may be some fragments missing that may cause damage or inability to use the recovered file. The Recycle Bin can only store a limited number of files for recovery. Once it exceeds the predefined disk space, it will start deleting or overwriting old files. Many programs designed for PC cleaning and optimization, scheduled tasks, etc. can automatically clean the Recycle Bin without request. You should never take the Bin for granted. Moreover, if you have also emptied the Recycle Bin or deleted a required file, the Bin can no longer help you as there is no way to restore it. However, this does not mean that every hope is lost. You can still try to recover deleted files and folders. This requires the [BB_link url="https://www.cleverfiles.com/howto/top-5-data-recovery-software-windows.html"]best data recovery software in 2020[/BB_link] utility like - Disk Drill. How Do I Recover Lost Files? The situation is familiar to many of us: you accidentally delete an important file - how to recover it? Typically, this task can be easily solved by yourself - not including those situations when the file drive has suffered serious mechanical, chemical, or other external damage. In file systems, removing an object from the Trash, or using a "Shift + Del"  keystroke combination, usually does not involve its physical removal - only the information about the file is erased, i.e. about its location on the disk. But over time, especially if you're out of space, the probability of a physical "cleanup" increases: new data can be written to the area marked as free. Therefore, the earlier the user decides to recover missing files, the higher the probability of success. There are several proven solutions available for the recovery software market. The recovery algorithm of all of them is approximately the same, and the utilities differ in functionality, convenience, and cost. There are also free programs that are not really effective. Plus, almost all paid high-quality utilities have a demo version that will allow you to use some features for free, which can be quite enough to restore your lost files for a certain period of time, in a certain amount. Thus, we would like to tell you about the one utility we liked the most in terms of reliability and speed. Disk Drill, formerly known as Pandora Recovery, has fully preserved its functionality. It supports all kinds of file systems and runs on Windows (XP - 10), and macOS. The utility recognizes most types of images, documents, archives, audio, and video files. One of the limitations is that in the free (Basic) version, you can only recover of up to 500 Mb of your missing data. No matter how many years your lost files have been missing or how many times other files or folders have been saved in the same place, Disk Drill will try to recover them with full accuracy. The software is very simple and user-friendly so anyone can recover files and folders with it. These are the main features of Disk Drill:
Restores permanently deleted files from the Recycle Bin in Windows and macOS;
Recovers deleted or lost files and folders;
Recovers formatted HDD/SSD content, data on hard drive failure;
Restores data lost due to Windows updates, software upgrades, or abnormal software operation;
Supports more than 300 media file formats, documents, compressed files, and more.
Features the Deep Scan function (algorithm for fast data recovery in several months without slowing down the system);
Features the Recovery Vault function for tracking important files or file formats and instant recovery when deleted;
Features the File Preview function (before recovery);
Search for files by type (photo, video, documents, audio), date, location, etc.
Features batch file recovery;
Saves scan results to avoid scanning forward.
Disk Drill is a great file recovery utility that not only allows you to "reanimate" your missing files from the Recycle Bin but also recovers deleted files and folders from the entire computer. Even if you have permanently deleted some content or lost it due to some Windows update, hard drive failure, software background operation, or any other reason, Disk Drill can be your savior. Now we shall talk about how to use Disk Drill to recover any type of files or folders. The first thing you should do is download Disk Drill from the official website and install it. How to Recover Your Recycle Bin with Disk Drill Let's get back to the main problem and see how Disk Drill can help us in this case.
Step 1. Suppose you have already installed Disk Drill on your PC. Open the utility using the icon on your desktop or in the Start menu. Once you launch it, Disk Drill will show you all specified hard drives, no matter hidden or visible.
Step 2. Now click the hard disk that originally contained the lost/deleted file or folder. Even if you sent it to the Recycle Bin, it was still in the trash partition of the same drive. So, click the "Recover" button - now Disk Drill will start scanning the chosen disk for all deleted files.
Step 3. During the scanning process, you will be able to see a list of deleted files. If you see your target file, you can pause the process by clicking "Pause" at the top. However, it's recommended that you wait until the scanning process is over. It may take a few minutes. After that, you can find your files.
Step 4. To quickly find your files or folder, you can use the search box on the left, or sort the search results by picture, video, document, audio, date, size, etc. This search result also lists the files that were removed from the Recycle Bin. Choose files or folders you need and click "Restore" in the upper right corner.
Step 5. Allow the recovery process to complete. After that, you will see a completion message as well as the recovered files in the Recovery folder, which, by default, is your Documents folder in Disk Drill.
We are sure that this guide is quite simple for you to understand how to recover deleted files from the Recycle Bin. With the simple recovery process, Disk Drill is the software that we recommend to download and install if you want to recover deleted photos, videos, music, documents, files, and folders without any loss. When You Can't Recover Your Data In some cases, even without any external damage to the drive, the data cannot be recovered. We are basically talking about modern SSDs that support the TRIM function, which is sent by the operating system through the ATA-interface to the drive. The message is that certain data blocks are free and they can be used to record new information. TRIM provides an even distribution of data on the SSD-disk. The function/command is required to increase the performance and, ultimately, to extend the life of the drive. This is all the more important because a limited number of reading/writing sessions are the Achilles' heel of SSDs. Most modern operating systems, starting with Windows 7 and Mac OS X (version 10.10.4 and higher), support TRIM. The command does not work on virtual drives in image format and RAID. Thus, if the SSD, OS, and file system support TRIM, in most cases, it will not be possible to recover deleted files, even using the most advanced software.
Checklist of crucial points we aim to highlight here: