Thematic Retro Party or How to Organize an Unforgettable Event + Crazy PSDs!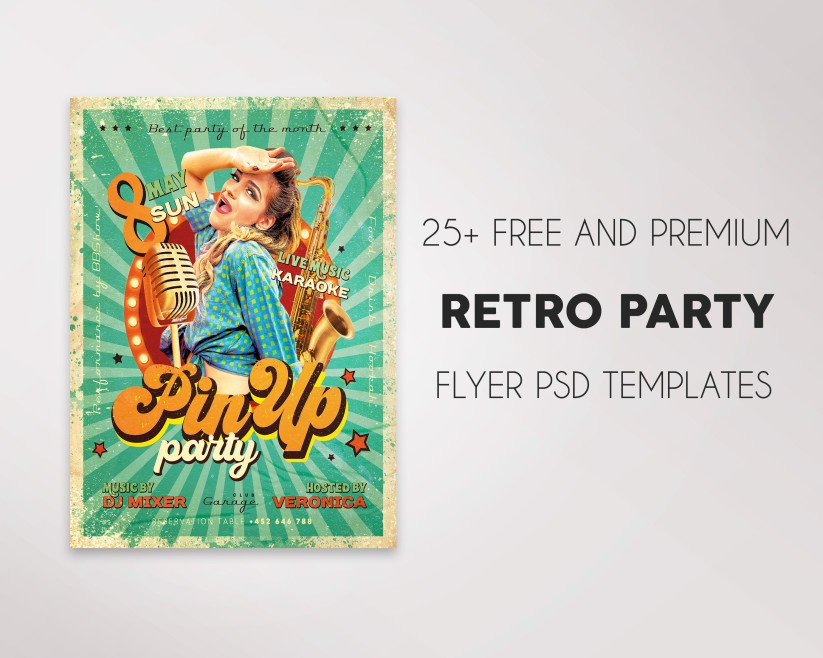 Fans of retro style shouldn't be sad, because in recent years, songs that sound 30 years ago, and the fashion of that time gained their second popularity. There are lots of popular parties in the style of the 80's, where they gladly break into the songs of Modern Talking and ABBA, both young people and the older generation. Also, it is possible to create a style of that time: stylish clothes, hair, shoes.
Bright large accessories, colorful jackets, dresses with magnificent skirts of bright coloring – everything this can be found today in clothing stores. True, all the "treasures" on the boutiques of treasures, it is also necessary to combine correctly!
By combining 80's and 90's music at one party, dressing style, interior decoration in retro style and fun contests, you can spend an unforgettable time with your best friends. Such a party is ideal for corporate events, New Year, birthday, hen party, etc.
Be sure you have thought about all the stages of preparation:
Prepare themed invitations for your event or holiday for your guests and friends.
Think about interior decoration to make your party more real.
Tell everybody you want to invite about dresses and style of guests.
Buy or prepare all the necessary drinks and treats.
Don't forget about competitions and entertainment for your guests.
And of course, music should be the best at your retro party!
We are glad to present to your attention our set of 20 awesome Premium and Free PSD Retro flyer templates to use them as invitations and advertisement for your future themes events! You can choose any templates you like, download and customize them in Photoshop without any problems. Choose the necessary style, add objects and images, change color schemes and any text you wish. We are sure that your awesome ideas should be very successful with our qualitative PSDs, because there are lots of them for any taste!
Retro Party – Free Flyer PSD Template
Download
Disco 2000 – Free Flyer PSD Template
Download
Retro Movie – Free PSD Flyer Template
Download
Cocktail Party - Free Flyer PSD Template
Download
Retro Party- Free Flyer PSD Template
Download
Old Retro Music Event – Free Flyer PSD Template
Download
Retro Party – Free PSD Flyer Template
Download
Retro Party Event – Free PSD Flyer Template
Download
Free Retro Birthday Invitation PSD Template
Download
Retro Party – Free Flyer PSD Template
Download
Vintage Car Show – Free Flyer PSD Template
Download
Free Retro Summer Invitation PSD Template
Download
Pin Up Party – Premium Flyer PSD Template
Download
Invitation Flyer For Pin Up Party
Download
Retro Night – Flyer PSD Template
Download
Back in The 80S – Premium Flyer PSD Template
Download
Back to the 80's Party – Flyer PSD Template
Download
Club Party – Flyer PSD Template
Download
Disco 90's – Premium Flyer PSD Template
Download
Disco 90's – Premium Flyer PSD Template
Download
Car Show – Premium Flyer PSD Template
Download
Retro Hits of the 90s – Flyer PSD Template
Download
Retro - Premium PSD Flyer Template
Download
Pin Up Retro Party - Premium PSD Flyer Template
Download
Retro Party - Premium PSD Flyer Template
Download