Free Vacation & Travel Brochure Templates in PSD and Premium Version!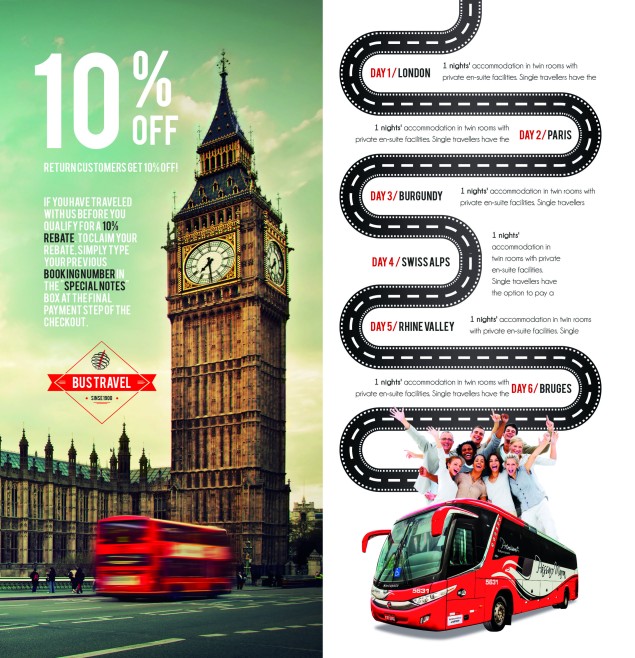 Vacation is the best time of the year. It's the time for having fun, traveling, sunbathing and adventures! When people plan to travel somewhere, the first place they visit is a travel agency. The first thing they are provided at a travel agency is vacation & travel brochures. Free travel brochures are the best and most cost-effective way to showcase vacation packages, travel directions and travel tours by a travel agency, a tour operator, a hotel or airlines company. In brochures, you can include both detailed information and beautiful photos of travel destinations promoted. By handing out travel booklets and brochures to potential customers, you have higher chances to get more conversions. We have compiled free and premium vacation & travel brochure PSD templates which can be downloaded right away and used by professional freelance graphic designers who are under deadline pressure and needs to design a travel brochure by tomorrow, travel agency promoters or anybody who is in the travel business. These creative, thought-out brochure designs need minimum changes and customization, all the hard work is done for you. All you need to do is to add the needed text, travel agency's or other tourism-related company's logos, change colors and insert beautiful photos in the predestined placeholders. All the
Free brochure templates in PSD
  for travel agencies are fully layered and are ready for printing. Just grab one of the following free travel brochure templates, edit it in Photoshop within several clicks and get the best result!
Checklist of crucial points we aim to highlight here:
Free Hotel and Motel Tri-Fold PSD Brochure
Circus – Free PSD Tri-Fold PSD Brochure Template
Circus – Free PSD Tri-Fold PSD Brochure Template
Download
Hotel Brochure Design Template
Hotel Brochure Design Template
Download
Travel – Tri-Fold Brochure PSD Template
Travel – Tri-Fold Brochure PSD Template
Download
Travel – Tri-Fold Brochure PSD Template
Travel – Tri-Fold Brochure PSD Template
Download
Free – Bus Travel Tri-Fold PSD Brochure Template
Free – Bus Travel Tri-Fold PSD Brochure Template
Download
Summer Travel – Free PSD Bi-Fold Brochure Template
Summer Travel – Free PSD Bi-Fold Brochure Template
Download
Travel – Free PSD Tri-Fold PSD Brochure Template
Travel – Free PSD Tri-Fold PSD Brochure Template
Download
Tourism – Free PSD Tri-Fold PSD Brochure Template
Tourism – Free PSD Tri-Fold PSD Brochure Template
Download
Сamping – Free PSD Tri-Fold PSD Brochure Template
Сamping – Free PSD Tri-Fold PSD Brochure Template
Download
Travel – Free Bi-fold PSD Brochure Template
Travel – Free Bi-fold PSD Brochure Template
Download
Travel Agency – Free Brochure PSD Template
Travel Agency – Free Brochure PSD Template
Download
Old Travel Brochure Template
Tri-Fold Brochure for Travel Agency
Tri-Fold Brochure for Travel Agency
Download
Travel Company Tri-Fold Brochure
Travel Company Tri-Fold Brochure
Download
Travel – Tri-Fold Brochure PSD Template
Travel – Tri-Fold Brochure PSD Template
Download
Travel and Tourism Tri-Fold Brochure Template
Travel and Tourism Tri-Fold Brochure Template
Download
Camping – Premium Bi-Fold PSD Brochure Template
Camping – Premium Bi-Fold PSD Brochure Template
Download