Travel - FREE Gift Certificate PSD Template - 10020687
To use these template you need Adobe Photoshop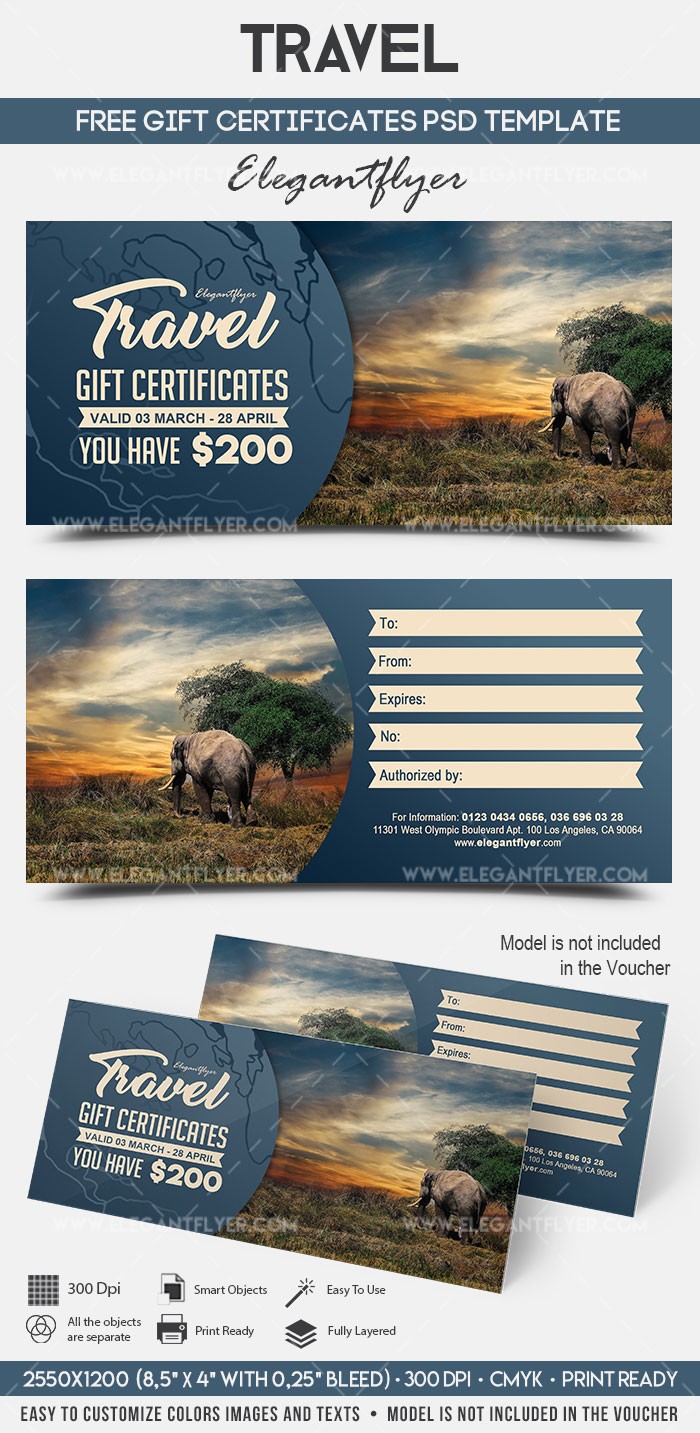 Better than a travel can only be lots of travels! We think that it is one of the most interesting way of getting new emotions, experience, new friends and impressions. Our new FREE Gift Certificate PSD Template is dedicated to Travel topic and can be great for travel agencies and agents and for creating the necessary branding identity. If you are a graphic designer or a business promoter, after downloading this free PSD gift certificate, it is possible for this template to be used easily and quickly in order to achieve any business goals dedicated to promotions you have. Elegantflyer invites you to visit our huge collection of Free PSD flyers, brochures, business cards, SMM elements, Logos, Free PSD, CVs and many other templates that can be printer and used for many professional goals. All the necessary customizations can be done in Photoshop quickly and easily. It is just necessary to add the text, logos and other details if you want to. If you want to know how to work in Photoshop, you can visit our Blog or find lots of training information on the Internet. We are sure that all the information there will be useful and interesting for you. Thanks for choosing us! Get this amazing template! You can use all of our Premium flyer templates PSD, Free event flyer templates, Many Business brochures, Business Cards and Awesome CD Covers, AI and EPS logos, Stock Illustrations as many times as you need. All the event and business templates on Elegantflyer are ready-made files for printing. But if you want you can customize and modify them as you wish. You can change the colors and replace all the elements because after you download it you will have the flyer in PSD format. Furthermore, you will get Facebook Cover with many of our flyers and brochures. It means that you will also download the additional PSD file for your main page in Facebook. You could customize it as well, change the details and make your corrections. Visit our website again and follow the novelties, because we add a lot of fresh flyers, advertising brochures and CD Covers every day! Also follow us on Facebook and don't be shy to leave some comments! Good luck! PSD is set up in 2550x1200 dimension (8,5" х 4" with 0,25" bleed). You can easily change texts, content, images, objects and color palette. The PSD file is very well organised, with color coded groups and layers named appropriately.
Save 98% OFF
Get unlimited access to all Templates and save over $65767!
Instant access to ALL TEMPLATES (included new ones!)
250 new templates / month
Unlimited downloads for each product
Regular updates and support with dedicated help desk
Cancel easily anytime
Qualitatively designed PSD files that are very easily customized
Save 98% OFF
Get unlimited access to all Templates and save over $65767!
Instant access to ALL TEMPLATES (included new ones!)
250 new templates / month
Unlimited downloads for each product
Regular updates and support with dedicated help desk
Cancel easily anytime
Qualitatively designed PSD files that are very easily customized