Club Dance Twitter - Premium Social Media template in PSD
To use these template you need Adobe Photoshop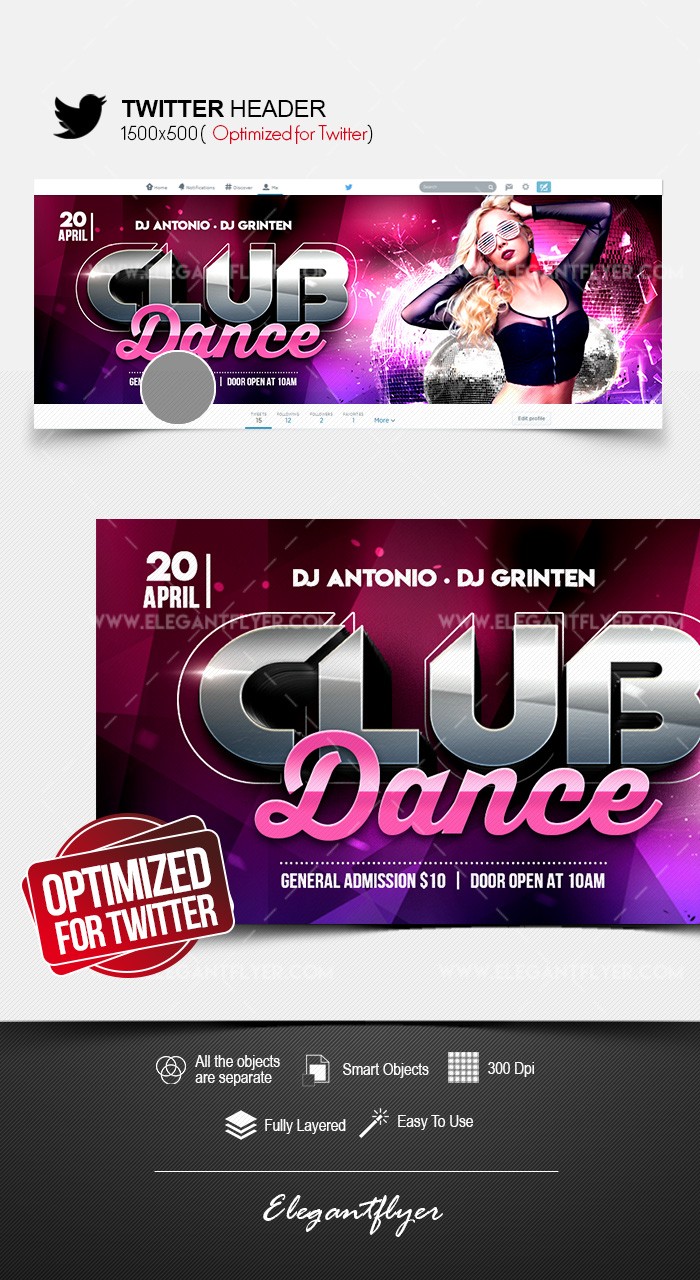 Step into the mesmerizing world of nightlife and get ready to dance the night away with our CLUB DANCE – TWITTER HEADER PSD TEMPLATE. The design showcases an abstract background in enchanting shades of purple and pink, creating an ambiance of excitement and allure. On the right side, a young woman wearing stylish glasses takes the spotlight against a backdrop of disco balls, exuding a sense of energy and vibrancy.
The sleek gray gradient 3D text adds a touch of modernity and sophistication, perfectly complemented by the alluring pink gradient text, making essential event details stand out with style. Additionally, a supplementary text block allows you to add personalized messages or important event information, ensuring your audience is well-informed and captivated. The template's multiple layers provide flexibility and ease in customization, empowering you to tailor the header to suit your event's theme and branding effortlessly.
Elevate your Twitter profile with this captivating CLUB DANCE Twitter header template, and let the world know that an unforgettable dance extravaganza awaits them. Get ready to set the dance floor on fire and create memories that will last a lifetime!
Save 98% OFF
Get unlimited access to all Templates and save over $65767!
Instant access to ALL TEMPLATES (included new ones!)
250 new templates / month
Unlimited downloads for each product
Regular updates and support with dedicated help desk
Cancel easily anytime
Qualitatively designed PSD files that are very easily customized
Save 98% OFF
Get unlimited access to all Templates and save over $65767!
Instant access to ALL TEMPLATES (included new ones!)
250 new templates / month
Unlimited downloads for each product
Regular updates and support with dedicated help desk
Cancel easily anytime
Qualitatively designed PSD files that are very easily customized