Night Club Twitter - Premium Social Media template in PSD
To use these template you need Adobe Photoshop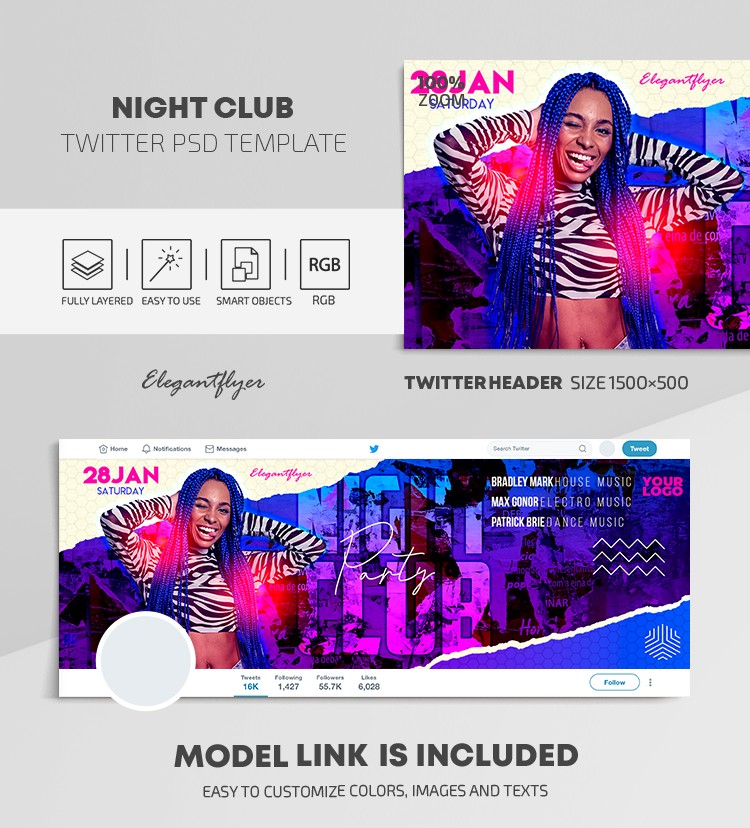 Introducing our PSD Twitter template featuring a captivating abstract background with a pink gradient. The template sets the perfect tone for a winter night party in a club. At the center, a cheerful young woman wearing a striped sweater adds a touch of warmth and style to the design. The white text elegantly stands out against the background, ensuring clear and readable messages. With an additional text block, you can easily customize the template with event details, party announcements, or any information you want to share. Whether you're organizing a festive winter bash, a holiday-themed event, or a night filled with music and fun, this template is designed to catch attention and create a sense of excitement. Editable in Photoshop, you have the flexibility to tailor the template to your liking, making it truly unique. Prepare to dazzle your audience and create unforgettable memories with our Twitter template, perfectly suited for a vibrant winter night party in a club setting!
Vídeotutorial:
Save 98% OFF
Get unlimited access to all Templates and save over $65767!
Instant access to ALL TEMPLATES (included new ones!)
250 new templates / month
Unlimited downloads for each product
Regular updates and support with dedicated help desk
Cancel easily anytime
Qualitatively designed PSD files that are very easily customized
Save 98% OFF
Get unlimited access to all Templates and save over $65767!
Instant access to ALL TEMPLATES (included new ones!)
250 new templates / month
Unlimited downloads for each product
Regular updates and support with dedicated help desk
Cancel easily anytime
Qualitatively designed PSD files that are very easily customized