Super Power Club Night Youtube - Premium Social Media template in PSD
To use these template you need Adobe Photoshop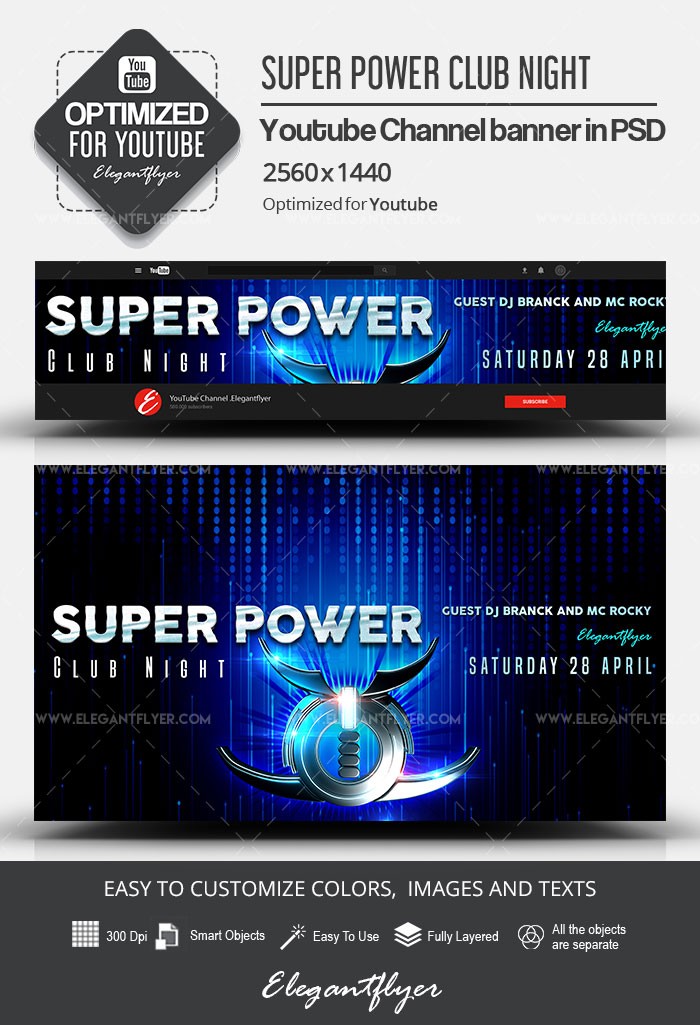 Unleash the superhero within with our Super Power Club Night YouTube PSD channel banner. Crafted in a modern glow style, this banner exudes an electrifying charm with its captivating black and glow blue hues. Immerse yourself in a world of mystery and excitement as you showcase your club night events or any thrilling content on your channel. The creative and silver emblem adds a touch of elegance, signifying the extraordinary experiences that await your viewers.
With its easy-to-customize PSD format, you can effortlessly add your channel name and personalize the visuals to match your unique style. Designed exclusively for YouTube, this template ensures a perfect fit, instantly elevating your channel's appeal. Embrace the power of creativity and make your club night events the talk of the town with this eye-catching YouTube banner.
Download now and witness your channel radiate with an electrifying aura that captures the attention of superhero enthusiasts and party-goers alike.
Save 98% OFF
Get unlimited access to all Templates and save over $65767!
Instant access to ALL TEMPLATES (included new ones!)
250 new templates / month
Unlimited downloads for each product
Regular updates and support with dedicated help desk
Cancel easily anytime
Qualitatively designed PSD files that are very easily customized
Save 98% OFF
Get unlimited access to all Templates and save over $65767!
Instant access to ALL TEMPLATES (included new ones!)
250 new templates / month
Unlimited downloads for each product
Regular updates and support with dedicated help desk
Cancel easily anytime
Qualitatively designed PSD files that are very easily customized