25+ Free Back to School Flyer Templates in PSD with Premium Version!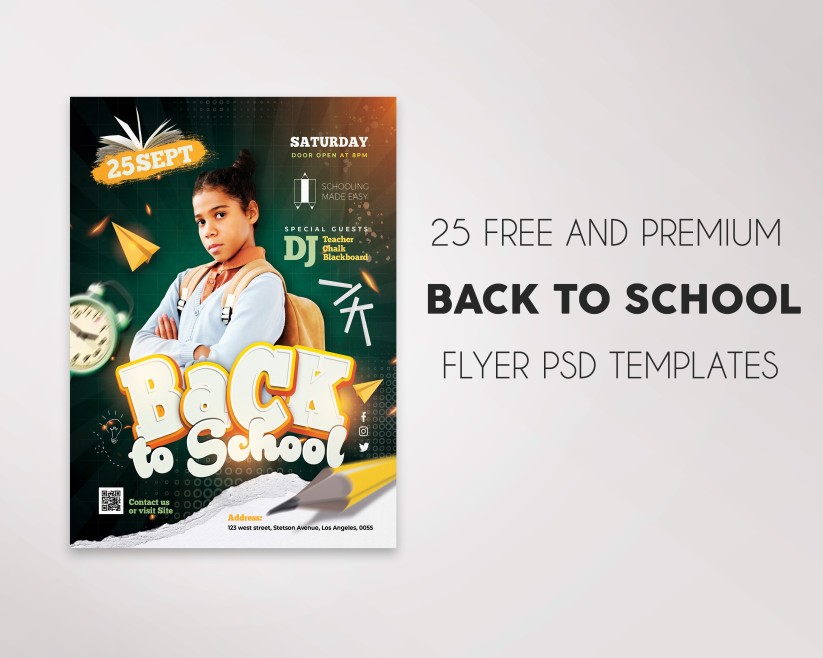 Are you planning a back to school party event? The first thing you should take care about in organization of an event is the tough promotion via online social media event promotion + printable back to school flyer invitations. The design of a social media cover page + flyer for a back to school event may become a time-consuming and spending task.
We have got you covered! Below are 22 hot new Back to School party flyer PSD templates + dedicated cover page design templates which you can download for free or get at an affordable cost. All the PSD templates are provided in a print-ready and customizable format with smart object layers, so you can easily change, add and remove any element without affecting image quality.
School theme party events become very popular before and during September. With these premium and free flyer templates in PSD for a back to school party, you can rest assured that you don't have to wait for a custom school theme flyer design too much time. Using pre-designed school theme flyer templates, you save a lot of time and money. Besides, most of the flyers are provided with social media cover templates designed in one style with flyer templates in PSD.
We have a lot of other free event party PSD flyer templates which you can easily turn into a high-end custom event invitation or promotional poster design. Moreover, we provide on a regular basis free social media templates for Facebook cover pages, Instagram ads, YouTube channel banners etc.
Back to School – Free PSD Flyer Template
Download
Back to School – Free PSD Flyer Template
Download
Back to School – Free Flyer PSD Template
Download
Back to School – Free Flyer PSD Template
Download
Back to School Party – Free Flyer PSD Template
Download
Back to School Party – Free Flyer PSD Template
Download
Back to School Party – Free Flyer PSD Template
Download
Back to School Party – Free Flyer PSD Template
Download
School Party – Free Flyer PSD Template
Download
Back to School – Premium PSD Flyer Template
Download
Back to School – Premium PSD Flyer Template
Download
Back to School – Premium PSD Flyer Template
Download
Back to School – Premium PSD Flyer Template
Download
Back to School – Premium PSD Flyer Template
Download
School – Flyer PSD Template
Download
Back to School – Premium PSD Flyer Template
Download
Back to school party – Flyer PSD Template
Download
Back to School Mega Sale – Flyer PSD Template
Download
Back to School – Flyer PSD Template
Download
Back 2 School V02 – Flyer PSD Template
Download
Flyer for Back to School
Download
Welcome Back to School Template
Download
Back To School V03 – Flyer PSD Template
Download
Back to School Poster Template
Download
Party for Going Back to School
Download
School Time – Flyer PSD Template
Download