30 Night Club Party Free Flyer Templates 2023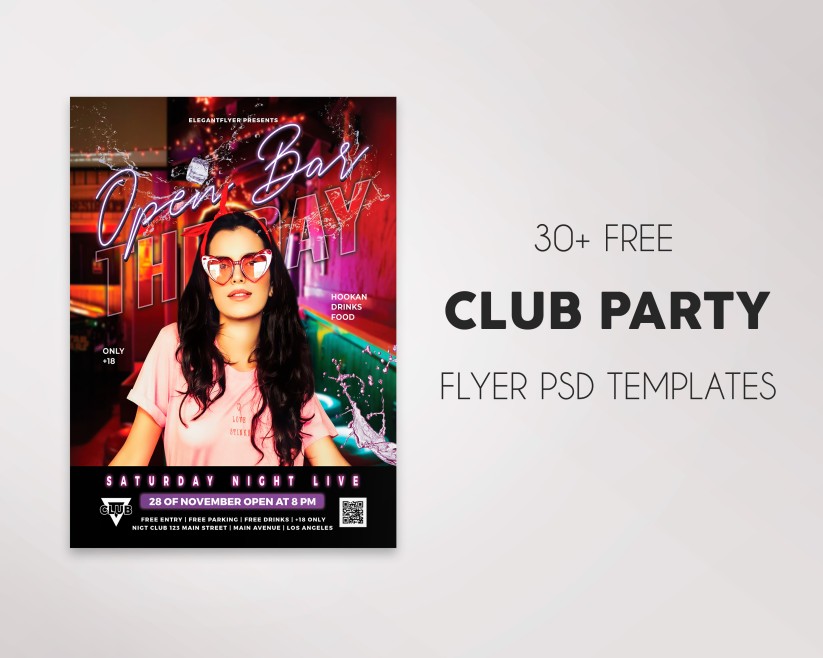 As someone who regularly throws parties at a club, you certainly know that efficient promotion is half of success! No matter what famous DJs you invite or how many free drinks you offer, no guest will show up unless they get to know about your event.
Checklist of crucial points we aim to highlight here:
Today we'd like to offer you a stunning list of 30 best flyers for successful advertising of your club. Provided solely by /, they will impress everyone with modern design and top quality of graphics. What's even better – each template is free and easily adjustable in Photoshop. Go ahead, and pick the one which is right for your party!
Open Bar
We'd like to start our list with this gorgeous flyer. Rich colors and neon writing match a photo of a cute girl. Although the template says "Open Bar", you can apply Photoshop to change this text and use the flyer for the promotion of other similar club events.
Download
Dj Battle
It's very hard to take your eyes away from this bright flyer! The colorful DJ flyer template is perfect for DJ battles, rap parties, and other club events. Feel free to edit it in Photoshop. Just place your text and photos to make it look great.
Download
Night Party
Download
Columbus Day
Download
Social Weekend
Next comes a stylish template of a Social Weekend party.  An awesome image and bright violet and yellow color accents will attract lots of attention to your big event. Save this template to edit it using PS, and print plenty of top class flyers.
Download
Ladies Night
If you are in search of a cute template that could help you promo a big girls' night out, this flyer model is exactly what you need. The unusual combination of sweet pink and glowing red color matches the photo of a charming girl. This unique template will awe everyone!
Download
Minimum Sound
Consider using this cool black and white sample for announcing your Minimum Sound party. Everyone will notice its unusual look. Feel free to download the file, and change the image and writing in Photoshop.
Download
Fall Party
Invite everyone to an amazing autumn party with this designer template. The striking white and orange color look catchy matched the black background. A fashionable image of a girl makes this flyer look special.
Download
Party Queen
A stylish layout and a fabulous shiny image make this template one-of-a-kind. Have no doubt using it for successful promotion of your night event. The writing and palette of this sample is free and easily adjustable in PS.
Download
Dia De Los Muertos
Dia de Los Muertos is a fun festival that everyone should visit at least once. If you plan on hosting a themed event to celebrate this day, our fresh flyer is all you need to succeed at promotion. A unique photo and a contrasting combo of red and black make it look scary and gorgeous at the same time!
Download
Cocktail Night
We bet you won't find a guest who'd say 'no' to this stylish Cocktail Night template. A pink drink in a crystal glass in the middle looks delicious, and the green mint leaves add a fresh touch. Tempt everyone with the fabulous flyers.
Download
Friday Vibes
A playful vivid font and a photo of a stylish guy against the light background make this flyer look relaxed and fun. Don't hesitate to use it and announce a big Friday party that no avid club goer will be able to miss!
Download
Club Party
A big DJ star invited to your club deserves a special presentation. We're sure that an incredible template presented here will do the job right! A vivid palette in purple and pink will match the photo of a DJ which you can replace with ease in Photoshop.
Download
Dancer Party
Snappy and stylish, this template will easily promote your big dancing party. Download it for free in just one click, and use PS to edit the writing and try out a different photo. The superb flyers you spread will make guests rush to your club.
Download
Halloween Party
Halloween is almost there, and we believe that the best way to celebrate it is to hit the scariest party of the year at a cool club! Announce a huge event at your place with this horribly cool flyer. An eerie image and a bloody red text cannot go unnoticed!
Download
DJ Party
Minimalistic yet fashionable, this flyer will aid you in announcing a cool DJ night. Download the free file now, and have fun trying out different colors of the background in Photoshop. By the way, the photo and the image are adjustable, too.
Download
Ladies Night
A flyer as stunning as this will draw the utmost attention to your special Ladies' party. We believe that everything about this template is perfect, so if you agree with us, you can go with just a quick change of the text in Photoshop.
Download
Faded Party
Unusual layout and gorgeous neon writing of this flyer will intrigue everyone about your upcoming party. Save the free sample, customize details in PS, and announce a top class event that no guest will miss.
Download
Black Friday
Black Friday is not all about rushing around the shops… We are sure that after a day of crazy shopping your guests will love to hang out at your club. Invite them to a unique event using this fantastic flyer sample.
Download
Japan Night
Since a lot of people these days are obsessed with Japan and its culture, throwing a Japan-themed party seems like a great idea! Stir excitement among your potential visitors with the help of this amazing template.
Download
Deluxe Night
For sure, every guest would love to attend a Deluxe Party that's going to take place at your club. A photo of a gorgeous girl and golden color accents shining from the dark background are perfect for promoting an event as special as this.
Download
Spring Night
A burst of vivid colors make this dark template look catchy and unique. Do not hesitate to use it for announcing your big Spring Party. All guests will fall in love with the stylish flyers that you can print out within minutes.
Download
DJ Night
Make a strong impression on your visitors with this contemporary template. A cool mix of yellow and violet will draw all attention to the photo of your famous DJ guest. Save this free sample, to edit the writing and upload the right image in Photoshop.
Download
Crazy Party
Throw the biggest party of the year, and use this superb flyer model to succeed at its promotion. The unusual look of the template will promise your guests a night of crazy fun. You can apply PS to do the necessary edits.
Download
Summer Sunday
Shades of violet, pink and purple give this sample an eye-catching and elegant look. Don't waste a moment and use it to announce your big summer event. It won't take you long to change the writing in Photoshop.
Download
Cocktail Party
We mixed up fresh colors and superb design to craft a perfect Cocktail Party flyer for you. All visitors will dream of chilling out at your club with a glass of delicious cocktail in their hand. Feel free to download and adjust this amazing sample.
Download
Urban Party
A cool photo and a striking font is what make this flyer right for announcing a big urban style party. Don't hesitate using it, and run Photoshop if you'd like to change the photo and edit the text. The sample is available for free.
Download
Cyber Party
We believe that a cyber-themed party requires an unusual presentation. This template with striking blue writing and a photo of a fantastically looking girl can spark interest in your guests. If you'd like to edit the text and replace the image, it can be done with ease in PS.
Download
House Beat
A kicky and chilled look of this House Beat sample presented here can instantly catch anyone's eyes. Unique design and fresh palette will promise a fun atmosphere to anyone who shows up at your club. Save and edit the free file now.
Download
Girls Party
Use an unusual template that you see here to advertise your special night event for girls. Interesting combination of colors along with the nice design can draw any look. You can apply Photoshop to change the image and writing of this free file.
Download
Game Night Party
If you are about to host a game night at your club – go no further! This flyer has got all one can think of for impressive party promotion. Unique layout, cool text in neon colors and photo of a tempting girl are all gathered here. The template is free and totally adjustable in PS.
Download
Red Code Party
No visitor will resist the temptation to show up at your place once they see a flyer as stunning as this in their hands! Deep red color and a hot girl in the middle will catch all the looks. You can use Photoshop to customize this free sample.
Download
R&B Party
Created by a pro, this top class flyer will make everyone dream of a special party that is about to hit your club! Unique design and a striking red text make it look fabulous. The template is waiting for your free download, and Photoshop will help to change the images and edit the writing.
Download
Has this unique compilation impressed you? We know that it has! So don't hesitate, pick your perfect sample, save and edit it for free, and print loads of stunning flyers! Make everyone around talk about your big event.