Best Free Winter Party Flyer Templates in PSD + Premium Version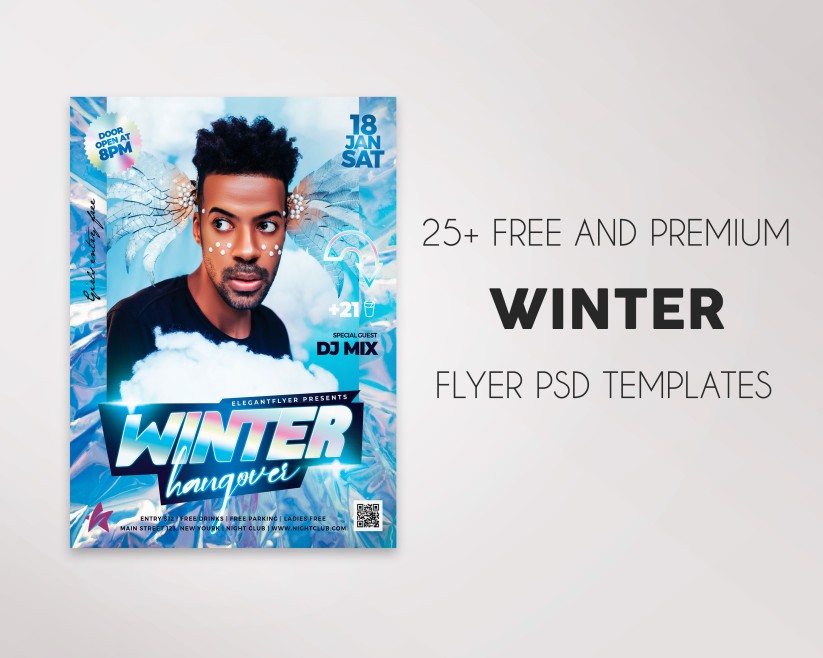 Winter is a great time to drop a party. There are so many occasions to arrange an event! Christmas, New Year, Snow Festival, etc. If you are planning such a party, take a look at our
winter party flyers
. We tried to collect only the best design ideas here. Hope you will find the one that meets your requirements.
So, what exactly do we have here? Our items are suitable for club parties, music concerts, family activities. There are some sports flyers as well.
You can use any of these samples to create an Ice Party invitation or Snowboarding season opening. As you can see, all these winter flyers are made in a recognizable winter style. Which is:
 

blue and white colors

 

snow and ice elements

 

Xmas and New Year decorations.
25 the best free and premium Winter flyers are waiting for you! Don't waste your time and check out what we have for you!
Winter Ice Party – Free Flyer PSD Template
Download
Winter Holidays – Free Flyer PSD Template
Download
Winter Ice Party – Free Flyer PSD Template
Download
Winter Party – Free PSD Flyer Template
Download
Winter Party – Free Flyer PSD Template
Download
Free Winter Party Flyer PSD Template
Download
Winter Party 2 – Flyer PSD Template
Download
Winter Mix – Flyer PSD Template
Download
Winter Hangover – Free Flyer PSD Template
Download
Snowboard Weekend – Free Flyer PSD Template
Download
Winter Session – Free PSD Poster Template
Download
Winter Party – Premium PSD Flyer Template
Download
Winter Party – Premium PSD Flyer Template
Download
Winter Party – Premium PSD Flyer Template
Download
Winter Holidays – Premium PSD Flyer Template
Download
Winter Club – Premium PSD Flyer Template
Download
Winter Drink Party – Premium PSD Flyer Template
Download
Snow Figures Festival – Flyer PSD Template
Download
Winter Party – Flyer PSD Template
Download
Snowy Winter – Flyer PSD Template
Download
Winter Party – Flyer PSD Template
Download
Snow Board Season – Premium PSD Flyer Template
Download
Snow Festival – Flyer PSD Template
Download
Winter BBQ Party – Premium Club flyer PSD Template
Download
Winter Club Music Flyer – Premium Club flyer PSD Template
Download
Winter Night Party – Premium Club flyer PSD Template
Download