Concert flyer - Premium Flyer template (PSD)
To use these template you need Adobe Photoshop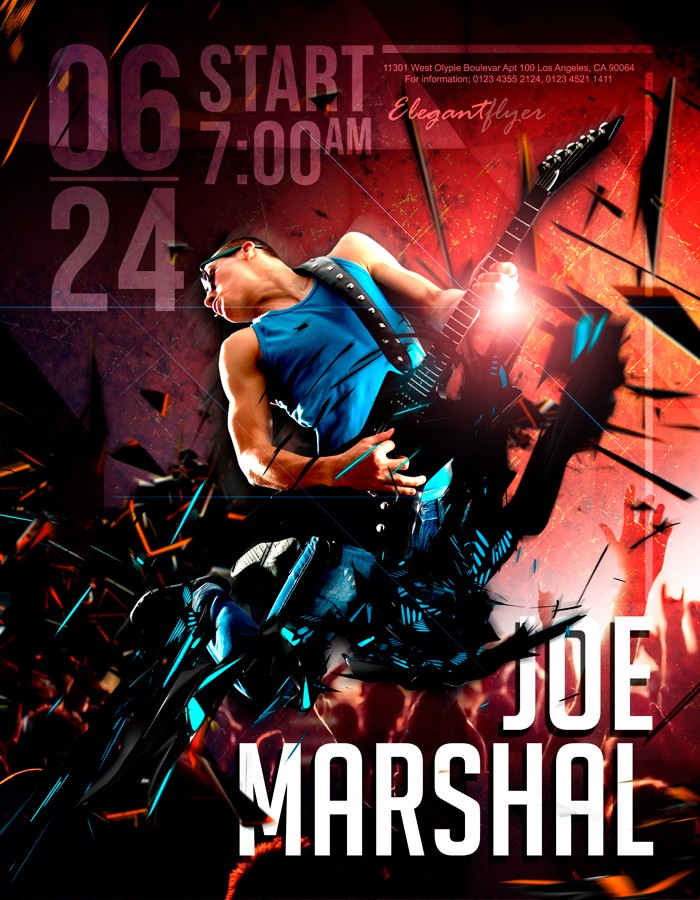 Elevate your concert promotion with our Concert Flyer PSD template. This exclusive design radiates energy and excitement, capturing the essence of live music in a captivating visual. Presented in a dynamic red color scheme, accented with vibrant blue elements, it sets the stage for an electrifying event.
At the heart of this flyer is a passionate musician, fingers dancing on a guitar, radiating the pure joy of live performance. It's an image that speaks to the soul of music lovers and conveys the electric atmosphere of a live concert. In the background, a sea of faces in the club captures the essence of community and shared experiences that concerts provide.
One of the standout features of this template is the editable photo holders. These offer you the creative freedom to personalize the visuals with event-specific images or artist highlights, ensuring that your flyer aligns perfectly with your concert's unique character.
But that's not all – when you download this template, you'll also receive a bonus Facebook cover in PSD format. This means your promotional efforts can extend seamlessly to social media, reaching an even wider audience.
Designed in PSD format, this flyer template ensures easy customization. You can effortlessly adjust text, colors, and other elements to match your event's branding and theme. Plus, the high-quality design guarantees stunning results when printed, making your promotional materials as impressive as the concert itself.
Download our Concert Flyer now and take your event promotion to the next level. Whether you're organizing a big-name headliner show or showcasing local talent, this template promises to convey the thrill and energy of live music, setting the stage for an unforgettable concert experience. Don't miss out – let your audience feel the beat and be part of the music magic!
You can use all of our Premium
flyer templates PSD
, Free event flyer templates, Many Business brochures, Business Cards and Awesome CD Covers, AI and EPS logos, Stock Illustrations as many times as you need.
Save 98% OFF
Get unlimited access to all Templates and save over $65767!
Instant access to ALL TEMPLATES (included new ones!)
250 new templates / month
Unlimited downloads for each product
Regular updates and support with dedicated help desk
Cancel easily anytime
Qualitatively designed PSD files that are very easily customized
Save 98% OFF
Get unlimited access to all Templates and save over $65767!
Instant access to ALL TEMPLATES (included new ones!)
250 new templates / month
Unlimited downloads for each product
Regular updates and support with dedicated help desk
Cancel easily anytime
Qualitatively designed PSD files that are very easily customized