Funeral Program - Free Brochure template in PSD
To use these template you need Adobe Photoshop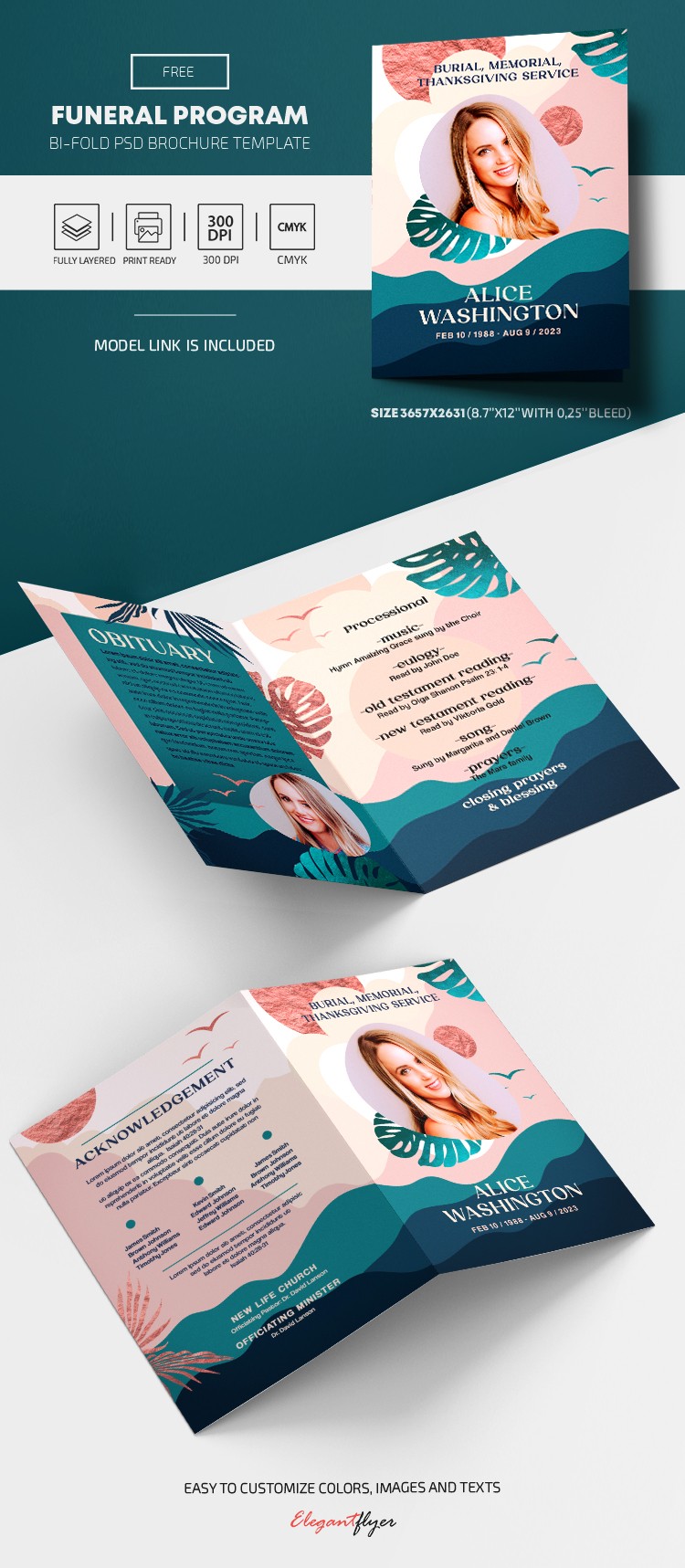 Introducing our Funeral Program PSD Template – a graceful tribute designed to honor and remember a loved one's life. This elegant bi-fold brochure is bathed in soothing pastel pink and blue colors, creating a serene backdrop for the memories and reflections within.
Crafted with a modern touch, the design features organic shapes that symbolize the continuity of life. With editable photo holders, your cherished memories seamlessly become part of the tribute, adding a personal touch to the program. The choice of elegant fonts mirrors the solemnity of the occasion while maintaining a sense of grace.
Inside, you'll find ample space for essential elements such as the obituary, order of service, and acknowledgments. The balanced layout ensures that every detail is tastefully presented, allowing your loved one's legacy to shine through.
Print-ready and thoughtfully designed, our Funeral Program PSD Template encapsulates the essence of remembrance and celebration. It serves as a heartfelt token for family and friends to cherish, a lovingly crafted memento of a life well-lived. In a time of sorrow, let this template help you create a program that reflects the beauty of a life cherished and remembered.
Vídeotutorial:
Save 98% OFF
Get unlimited access to all Templates and save over $65767!
Instant access to ALL TEMPLATES (included new ones!)
250 new templates / month
Unlimited downloads for each product
Regular updates and support with dedicated help desk
Cancel easily anytime
Qualitatively designed PSD files that are very easily customized
Save 98% OFF
Get unlimited access to all Templates and save over $65767!
Instant access to ALL TEMPLATES (included new ones!)
250 new templates / month
Unlimited downloads for each product
Regular updates and support with dedicated help desk
Cancel easily anytime
Qualitatively designed PSD files that are very easily customized