DJ Party Twitter - Premium Social Media template in PSD
To use these template you need Adobe Photoshop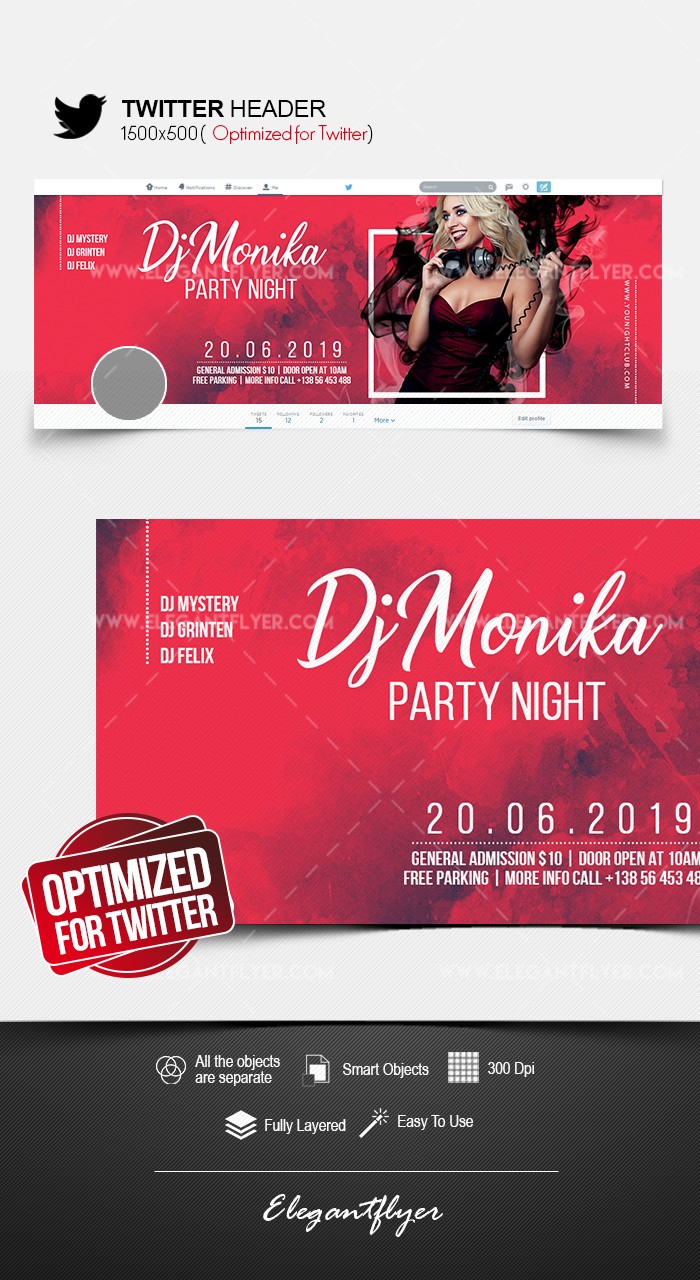 Unleash the electrifying beats and make a bold statement with our DJ PARTY – TWITTER HEADER PSD TEMPLATE. The design showcases an abstract backdrop in captivating shades of red, creating an atmosphere of energy and excitement. Standing amidst a backdrop of swirling black smoke, a stylishly dressed female DJ, wearing headphones, takes center stage, exuding confidence and charisma.
The sleek white calligraphic text adds a touch of elegance and professionalism, allowing you to showcase essential event details with utmost clarity. Moreover, an additional text block provides ample space for sharing exciting announcements or essential event information, ensuring your audience is well-informed. With its user-friendly nature and multiple layers, this template is easily customizable, enabling you to personalize the header to match your unique event theme and branding effortlessly.
Embrace the power of visual storytelling and elevate your Twitter profile with this visually stunning DJ PARTY Twitter header template. It's designed to captivate and enthrall your audience, making your event the talk of the town!
Save 98% OFF
Get unlimited access to all Templates and save over $65767!
Instant access to ALL TEMPLATES (included new ones!)
250 new templates / month
Unlimited downloads for each product
Regular updates and support with dedicated help desk
Cancel easily anytime
Qualitatively designed PSD files that are very easily customized
Save 98% OFF
Get unlimited access to all Templates and save over $65767!
Instant access to ALL TEMPLATES (included new ones!)
250 new templates / month
Unlimited downloads for each product
Regular updates and support with dedicated help desk
Cancel easily anytime
Qualitatively designed PSD files that are very easily customized