Ladies Only Party - Free Flyer template (PSD)
To use these template you need Adobe Photoshop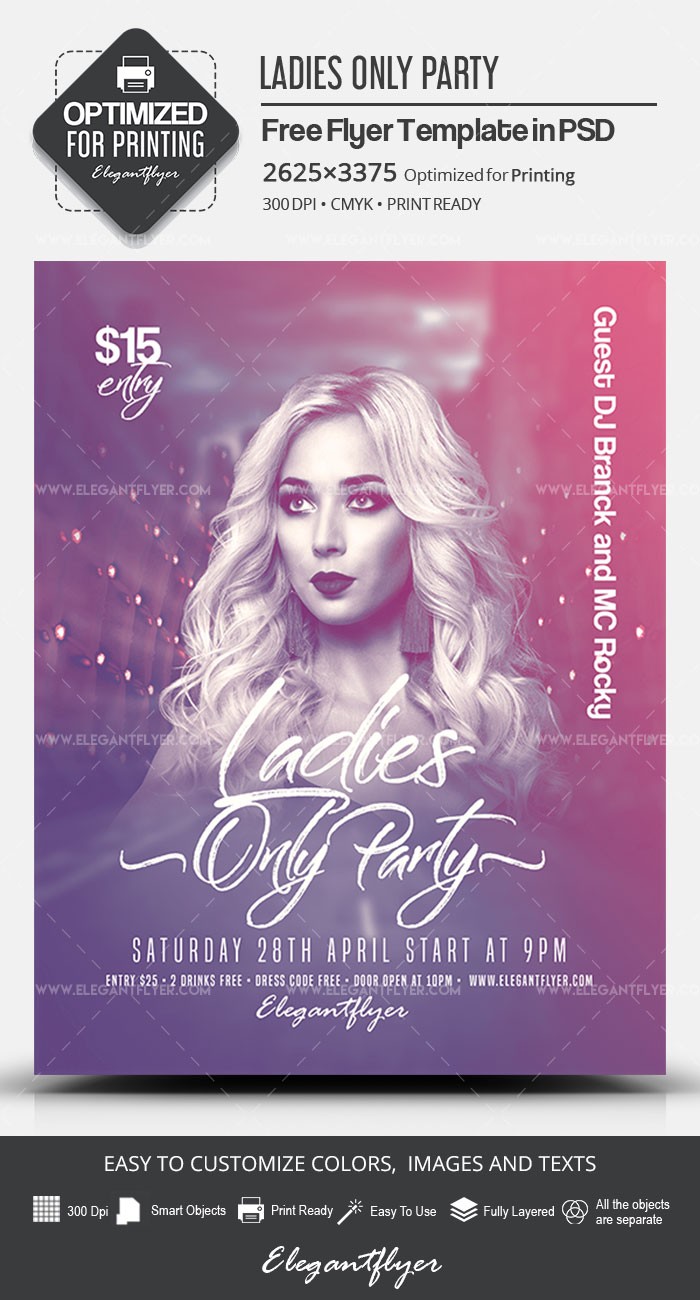 Elevate your Ladies Only Party with our stunning PSD Flyer template, designed in a captivating gradient style that exudes elegance and excitement. The flyer boasts a delightful combination of pink and blue hues, creating a visually appealing and feminine atmosphere. It features a stylish illustration of a woman, adding a touch of sophistication to your event.
Crafted in the versatile PSD format, this flyer template is meticulously customized in Photoshop, ensuring that you can effortlessly personalize it to suit your party's unique theme and details. Its design is optimized for high-quality printing, guaranteeing that your flyers will look as glamorous on paper as they do on your screen.
Whether you're hosting a bachelorette party, a girls' night out, or any other exclusive ladies' event, this flyer is the perfect choice to spread the word. It not only reflects the vibrancy of your gathering but also conveys a sense of elegance and fun. Download it now and make your Ladies Only Party an unforgettable and stylish occasion.
Save 98% OFF
Get unlimited access to all Templates and save over $65767!
Instant access to ALL TEMPLATES (included new ones!)
250 new templates / month
Unlimited downloads for each product
Regular updates and support with dedicated help desk
Cancel easily anytime
Qualitatively designed PSD files that are very easily customized
Save 98% OFF
Get unlimited access to all Templates and save over $65767!
Instant access to ALL TEMPLATES (included new ones!)
250 new templates / month
Unlimited downloads for each product
Regular updates and support with dedicated help desk
Cancel easily anytime
Qualitatively designed PSD files that are very easily customized